514-697-3210
C. Prata - Principal

TOGETHER, REACHING FOR EXCELLENCE
Upcoming Events
AUGUST
31
First day of school for
Sec I students only
SEPTEMBER
1
First day of school for
Sec II - V students only
2
All students in school
5
Labour Day Holiday
6
Parents' Annual General Assembly
Governing Board Elections
7:30 pm
Welcome to John Rennie High School
Dear Parent/Guardian,
On behalf of our Principal, Cristina Prata, and our Cycle II Vice-Principals, Elaine Fraser & Michael White, I would like to welcome you to John Rennie High School. Our goal is to provide an exciting and rich educational experience for your child.
Students entering Secondary I will have their first day of school on Wednesday, August 31st. Please note that our hours for that day, will be from 9:05 a.m. – 3:35 p.m., including Sport-Études. On this day, your child will be greeted in the Great Hall by our staff and directed to their proper homeroom. Once finished in their homeroom, students will move through a modified schedule which will allow time for a visit to all their classes along with a short assembly and some student life activities. There will also be a 'Welcome BBQ' at lunch for the students (only recess snack required on this day).
Please note on Thursday, September 1st, only Secondary II, III, IV and V students attend school (Secondary 1 students remain at home).
On Friday, September 2nd, all students from Secondary I through Secondary V attend school. Our hours at John Rennie High School are 9:05 a.m.-3:35 p.m., with the exception of Sport-Études students, who follow an 8:10 a.m.-12:00 p.m. schedule.
Please click here for the suggested list of school supplies for Cycle I for your son/daughter to bring on their first days of school.
Our staff is excited to meet you and to begin cultivating the educational partnership that we will share in the future. Please ensure we have your current email address(es) in our files as information is primarily distributed via email. If you have any questions, please do not hesitate to contact me.
Mme Laurence Assouline
Vice-Principal, Cycle I
514-697-3210
lassouline@lbpearson.ca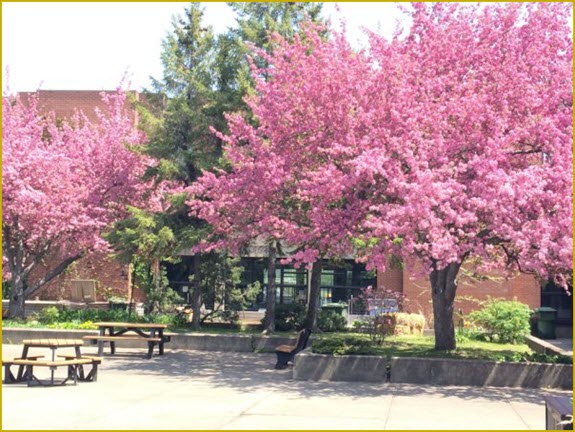 Our high school opened in 1955 and was named in memory of the Honourable John Rennie, member of the Legislative Assembly. Mr. Rennie was instrumental in persuading the government of Premier Duplessis to provide the funds to build a badly needed school in Pointe Claire. Families of the era were forced to send their youngsters as far away as Montreal West in order to pursue secondary studies. John Rennie has grown a great deal since those days of the basic Ministère de l'Éducation et Enseignement supérieur (MEES) curriculum.
John Rennie offers one of the most diverse curriculum available at the secondary level. We have two computer labs and a robotics lab where students learn to program robots for competition. We offer a range of options including: Pottery, Drama, Actors' Studio, Journalism, Spanish, Debating, Photography, World History, Music (concert and jazz band), Law, Psychology, Computer Applications, Architectural Technology, Advanced Physical Education, enriched Science electives, and Leadership. Our timetable is constructed to provide the students opportunities to enjoy a variety of options, while still pursuing a specific interest such as music.
Our site was last updated on August 30, 2016
---