514-697-3210
C. Prata - Principal

TOGETHER, REACHING FOR EXCELLENCE
Upcoming Events
DECEMBER
6
LBPSB Region 3
Professional Day
Welcome to John Rennie High School
This year's fundraiser for The Terry Fox Foundation raised $11553! What an amazing way to show support for beating cancer! Great job!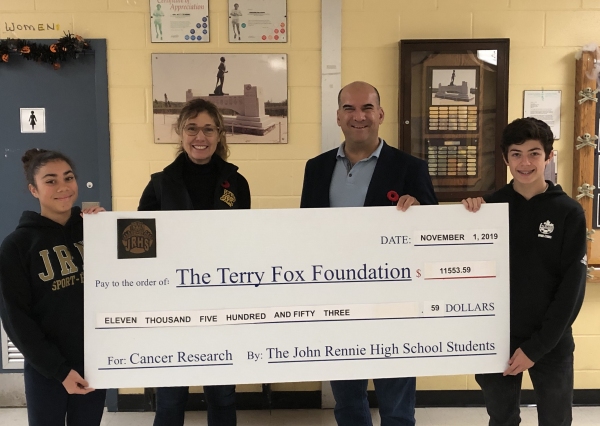 Grade 9 Students
Kia Wallace SE-Gymnastics
Benjamin Haynes SE-Soccer
Our high school opened in 1955 and was named in memory of the Honourable John Rennie, member of the Legislative Assembly. Mr. Rennie was instrumental in persuading the government of Premier Duplessis to provide the funds to build a badly needed school in Pointe Claire. Families of the era were forced to send their youngsters as far away as Montreal West in order to pursue secondary studies. John Rennie has grown a great deal since those days of the basic Ministère de l'Éducation et Enseignement supérieur (MEES) curriculum.
John Rennie offers one of the most diverse curriculum available at the secondary level. We have two computer labs and a robotics lab where students learn to program robots for competition. We offer a range of options including: Pottery, Drama, Actors' Studio, Journalism, Spanish, Debating, Photography, World History, Music (concert and jazz band), Law, Psychology, Computer Applications, Architectural Technology, Advanced Physical Education, enriched Science electives, and Leadership. Our timetable is constructed to provide the students opportunities to enjoy a variety of options, while still pursuing a specific interest such as music.
Our site was last updated on December 03, 2019
---